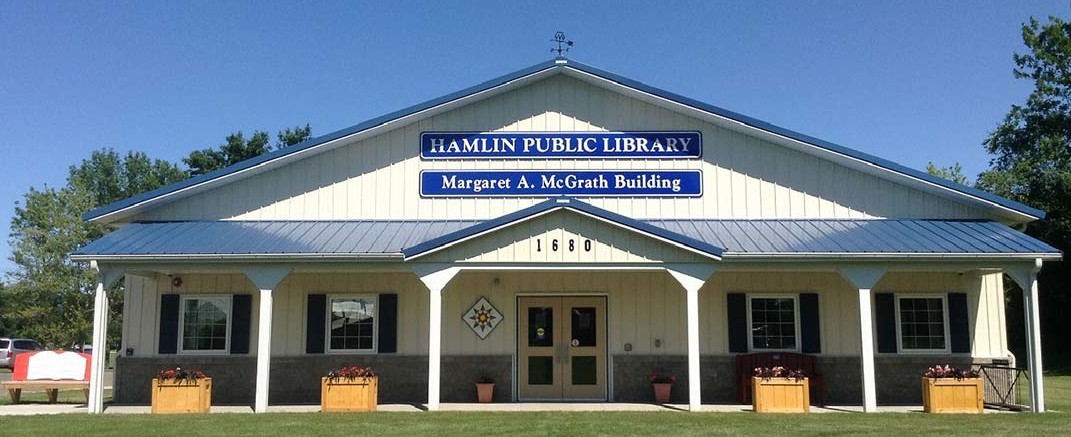 The Friends of the Hamlin Public Library are a non-profit, tax deductible volunteer organization that provides financial support for the Hamlin Public Library.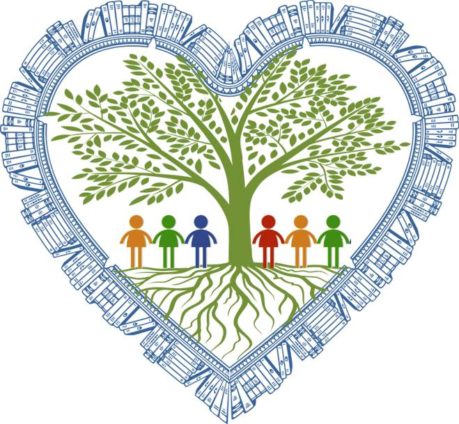 The Friends of the Hamlin Public Library provides support to the Library in a variety of forms:
Book Sales
Fund Raising Events
Advocates for the Library to elected officials
Financial support for the Summer reading Program
Financial support including items such as the purchase of our circulation counter, the teen and adult area seating, multiple programs, and the meeting room renovation
What are different ways someone can support the Friends of the Library?
Become a member to assist the Hamlin Public Library with it's continued goal to support the Hamlin community.
Volunteer to participate in our fundraisers.
Join in Friends of the Library meetings on the 4th Wednesday of the month at 4:00pm at the library. It's a great time to offer your support and ideas. There are no meetings held in May, July and December.
Please contact Wilma Matsko at matskofam@frontiernet.net for more information about volunteer opportunities supporting the Library.
Businesses that support The Friends of the Library

Both of these businesses are Lifetime Supporters!

Would your business or organization like to help support The Friend of the Library?  If so please contact Wilma Matsko at matskofam@frontiernet.net.  it would be greatly appreciated. 
As a kid in suburban Chicago, Gary Sinise was more interested in sports and rock 'n' roll than reading or schoolwork. But when he impulsively auditioned for a school production of West Side Story, he found his purpose–or so it seemed. 
The military community's embrace of the character of the disabled veteran he portrayed in Forest Gump,was matched only by the depth of Gary's realization that America's defenders had not received all the honor, respect, and gratitude their sacrifices deserve. In the aftermath of the September 11 attacks, this became Gary's mission. While starring in hits like Apollo 13, Ransom, Truman, George Wallace, CSI:NY, and Criminal Minds: Beyond Borders, Gary has worked tirelessly on behalf of those who serve this country, entertaining more than a half million troops around the world playing bass guitar with his Lt. Dan Band, raising funds on behalf of veterans, and eventually founding the Gary Sinise Foundation with a mission to serve and honor America's defenders, veterans, first responders, their families, and those in need.
Grateful American is the moving, entertaining, profoundly gripping story of how one man found his calling: to see that those who defend this country and its freedoms are never forgotten.
View new Adult Nonfiction
| | |
| --- | --- |
| Only Astrology Book You Will Every Need | Joanne Woolfolk |
| Chart Interpretation Handbook | Stephen Arroyo |
| Mostly Sunny | Janice Dean |
| Eat toto beat Disease | William Li |
| Hormone Fix | Anna Cabeca |
| G.H. Simple Organizing Wisdom | Laurie Jennings |
| How to Know Birds | Ted Flody |
| Radical Kinfness | Angel Santomero |
| Someday is Not a day in the Week | Sam Horn |
| See You in the Piazza | Frances Mayes |
| Eat, Libe< Thrive Diet | Danna Demetre |
| Hungry Girl Simple 6 | Lisa Lillen |
| 52 Small Changes For Your Family | Brett Blumenthal |
| Fodor's Alaska | Fodor |
| Montessori Toddler | Simone Davies |
| Fifty Things That Aren't My Fault | Cathy Guisewite |
| Riding the Elephant | Craig Ferguson |
| On Streisand | Ethan Mordden |
| Ray Bodger | Vanleuven |
| Dreyer's English | Benjamire Dreyer |
| Solitary | Albert Woodfox |
| Inspired Hosueplant | Jen Sterns |
| Sprout Lands | William Logan |
| Vietnamese Food Any Day | Andrea Nguyen |
| Native Amercian Landmarks and Festivals | Yvonne Dennis |
| Heartland | Sarah Smarsh |
| Grateful American | Gary Sinese |
The Island of Sea Women
Mi-ja and Young-sook, two girls living on the Korean island of Jeju, are best friends that come from very different backgrounds. When they are old enough, they begin working in the sea with their village's all-female diving collective, led by Young-sook's mother. As the girls take up their positions as baby divers, they know they are beginning a life of excitement and responsibility but also danger.
Despite their love for each other, Mi-ja and Young-sook's differences are impossible to ignore. The Island of Sea Women is an epoch set over many decades, beginning during a period of Japanese colonialism in the 1930s and 1940s, followed by World War II, the Korean War and its aftermath, through the era of cell phones and wet suits for the women divers. Throughout this time, the residents of Jeju find themselves caught between warring empires. Mi-ja is the daughter of a Japanese collaborator, and she will forever be marked by this association. Young-sook was born into a long line of haenyeo and will inherit her mother's position leading the divers in their village. Little do the two friends know that after surviving hundreds of dives and developing the closest of bonds, forces outside their control will push their friendship to the breaking point.
View New Adult Fiction
| | | | |
| --- | --- | --- | --- |
| Title | Author |   | Release Date |
| The 13 Minute Murder | James  | Patterson | 4/16/2019 |
| The 18th Abduction | James  | Patterson | 4/29/2019 |
| The A List | J. A. | Jance | 4/2/2019 |
| The Better Sister | Alafair | Burke | 4/16/2019 |
| Courting Mr. Lincoln | Louis | Bayard | 4/23/2019 |
| The Editor | Steven | Rowley | 4/2/2019 |
| The Invited | Jennifer | McMahon | 4/30/2019 |
| Little Darlings | Melanie  | Golding | 4/30/2019 |
| Lost Roses | Martha Hall | Kelly | 4/9/2019 |
| Machines Like Me | Ian | McEwan | 4/23/2019 |
| Metropolis | Philip | Kerr | 4/9/2019 |
| Miracle Creek | Angie | Kim | 4/16/2019 |
| The Mother-in-Law | Sally | Hempworth | 4/23/2019 |
| Neon prey | John  | sanford | 4/23/2019 |
| Normal People | Sally | Rooney | 4/16/2019 |
| The Patient One | Shelly Shepard  | Gray | 4/9/2016 |
| The Tinderbox | Beverly | Lewis | 4/2/2019 |
| Under the Table | Stephanie | Evanovich | 4/16/2019 |
| The View from Alameda Island | Robyn | Carr | 4/30/2019 |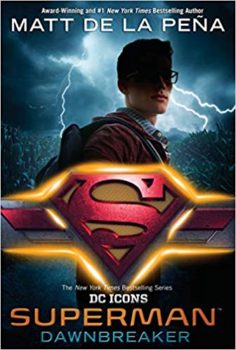 When the dawn breaks, a hero rises.
Clark Kent has always been faster, stronger–better–than everyone around him. But it's not like he's earned his powers . . . yet. Lately it's difficult to hold back and keep his heroics in the shadows. When Clark follows the sound of a girl crying, he comes across Gloria Alvarez and learns that people are disappearing from the Mexican-American and undocumented worker community in Smallville. Teaming up with his best friend, Lana Lang, Clark discovers that before he can save the world, he must save Smallville.
View Teens Books
Teen and Tweens
| | |
| --- | --- |
| J-Fiction |   |
| The 104-Story Treehouse | Andy Griffiths |
| Arlo Finch in the Lake of the Moon | John August |
| Rise of the Dragons | Angie Sage |
|   |   |
| J-Non-Fiction |   |
| Apollo 11 Moon Landing | Thomas Adamson |
| Bats | Falynn Koch |
| Clothesline Clues to Jobs People Do | Kathryn Heling |
| Coral Reefs | Maris Wicks |
| Helpers in Your Neighborhood | Shira Evans |
| Mar Exploration Rovers | Steve Kortenkamp |
|   |   |
| Series Books |   |
| Breaking the Piggy Bank | Martha Maker |
| Rapunzel | Michele Jakubowski |
| Sleeping Beauty | Jessica Gunderson |
| To Many Cats! | Lisa Ann Scott |
| What is the Stanley Cup? | Gail Herman |
| Who is Michael Jordan | Kirsten Anderson |
| Who was H. J. Heinz | Michael Burgan |
| Who was Newton? | Janet B. Pascal |
| Who was Neil Armstrong? | Roberta Edwards |
| Who was Susan B. Anthony? | Pamela Pollack |
https://www.youtube.com/watch?v=gbsZohEMn38
Click the link above to watch the hilariously fun video of a grandma reading the "Wonky Donkey" book to her grandchild
Kids will love this cumulative and hysterical read-aloud!"I was walking down the road and I saw . . .
A donkey,
Hee Haw!
And he only had three legs!
He was a wonky donkey."
Children will be in fits of laughter with this perfect read-aloud tale of an endearing donkey. By the book's final page, readers end up with a spunky, hanky-panky, cranky, stinky, dinky, lanky, honky-tonky, winky wonky donkey!
View Children's Books
| | |
| --- | --- |
| Picture Books |   |
| Chicken talk | Patricia MacLachlan |
| From Tree to Sea | Shelley Moore Thomas |
| Good Boy | Sergio Ruzzier |
| How to give your Cat a Bath | Nicola Winstanley |
| In the Quiet Noisy Woods | Michael Rosen |
| Say Something! | Peter Hamilton Reynolds |
| Sheep Dog | Eric Barclay |
| What a Cold Needs | Barbara Botner |
| What If…? Then We… | Rebecca Kai Dotlich |
|   |   |
| Board Books |   |
| Spring Babies | Kathryn Galbraith |
| Summer Babies | Kathryn Galbraith |
| Super Pooper and whiz Kid Potty Power | Eunice Moyle |
| Winter babies | Kathryn Galbraith |
The Mule
Gritty. Real. Real gritty.
Once again, Eastwood stars and directs a film about an aging Korean War veteran, Earl Stone, who continues to take pleasure in his lifetime past times, beautiful women, alcohol, and…….flowers (?).
Now in his nineties, with lingering guilt about neglect and abuse placed on certain family members, he tries to cling to the things he knows & loves: flowers. Offered a "driving" job, Earl finds himself in the modern age of cell phones, texting, & GPS.
Earl is now a drug runner, he knows what he is into, and uses his "gobs 'o money" to get his house out of foreclosure, finance improvments to his VFW, and pay for other, a-hem, pleasures.
 Very little. The film is really about family, personal honor, integrity, and doing the right thing, even after doing wrong.
View Adult and Children's Movies
Adult DVD's
All of My Heart – The Wedding
Becoming Astrid
Being Rose
Ben is Back
Christmas with Tucker
Death Kiss
The Favorite
Frenzy
Grand-daddy Day Care
Last of the Mohicans
Love on Safari
My Dinner With Herve
Once Upon a Prince
Second Act
Signed Sealed Delivered-Home Again
Speed kills
Tea With The Dames
What They Had
Winter's Dream
Children's DVD's
Bubble Gum Fairies-Valentines Day Party
Capt Maya and The Space Explores
Easterland
Groundhog Dave
Leprechaun tales
My Hero Academia Two
Paw Patrol-Mighty Pups
Pawparazzi
PBS Kids-20 Incredible Tales
Spiderman: Into the Spider Verse
Stan and Ollie
This is just a small sampling of the new DVD's coming to the library.  Stop in to pick up your next favorite movie!