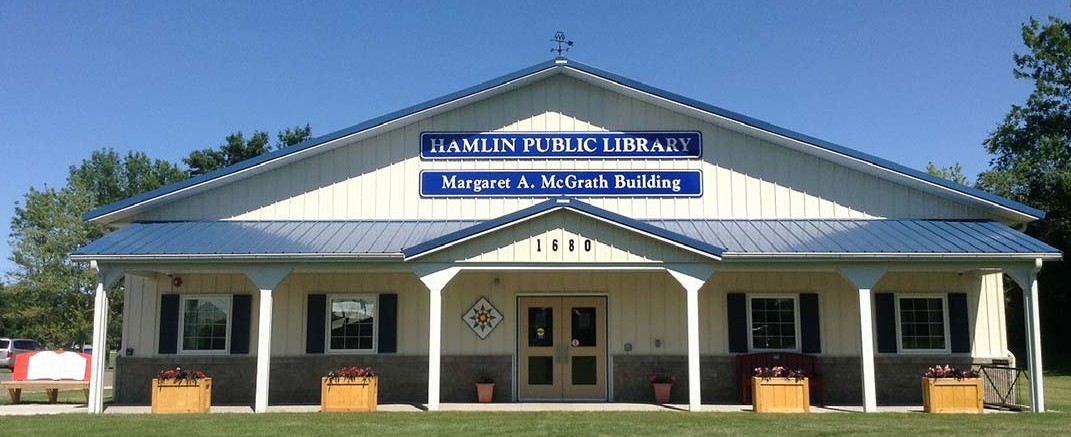 Summer Reading Has Started
Sign up and Let the Reading Begin!
Libraries Rock!

Programs and Events almost every day!
Wednesday July 11th at 1:00pm  – 2:30pm
Bring a pre-washed 100% cotton  item of clothing
We will have everything else to create a Tie Dye Work of Art
Thursday July 12th at 1:00pm
Cool Rocks and Minerals
Presented by Indigo Pardun
Indigo will be sharing her collection
and answering questions.

Our Community Rocks
Every Monday will feature a Hamlin Business
and non-Profit Organization.  Presentations are family-freindly
with demonstrations and/or hands-on activities.
July 16: The Farmers Table




Let's make Salsa!
July 23: Jeanie's Dance Connection
Dance Demonstration
July 30: Tom Barbera, Pro Marine
"My Story: Living 530 days Without a Heart"
August 6: S&S Fitness
Lets get moving!
SUMMER READING CHALLENGE 2018
Sign up and track weekly reading minutes.




Turn in reading minutes each Friday by 3pm.
There are weekly prize drawings for




preschool, children, teens and adults.
Grand prizes will be awarded at the Summer Reading Finale.
Adult Nonfiction
Inseparable: The Original Siamese Twins and Their Rendezvous with American History
Lonely Planet: The world's leading travel guide publisher
Discover the freedom of open roads with Lonely Planet New England's Best Trips, your passport to uniquely encountering New England by car. Featuring 32 amazing road trips, plus up-to-date advice on the destinations you'll visit along the way, you can enjoy the soaking peaks and lush valleys of the White Mountains or explore maritime history on a tour through Maine, all with your trusted travel companion. Get to New England, rent a car, and hit the road!
Inside Lonely Planet New England's Best Trips:
Lavish colour and gorgeous photography throughout
Itineraries and planning advice to pick the right tailored routes for your needs and interests
Get around easily – easy-to-read, full-colour route maps, detailed directions
Insider tips to get around like a local, avoid trouble spots and be safe on the road – local driving rules, parking, toll roads
Essential info at your fingertips – hours of operation, phone numbers, websites, prices
Honest reviews for all budgets – eating, sleeping, sight-seeing, hidden gems that most guidebooks miss
Useful features – including Detours, Walking Tours and Link Your Trip
Covers Massachusetts, Connecticut & Rhode Island, Vermont, New Hampshire, Maine, Coastal New England, Boston, Plymouth, White Mountains, Newport and more
View new Adult Nonfiction
| | |
| --- | --- |
| 12 Rules for Life | Jordan Peterson |
| All American Murder | James Patterson |
| Always Delicious | David Ludwig |
| Android Phones & Tablets for Dummies | Dan Gookin |
| Beauty of Dirty Skin | Whiteny Bowe |
| Clean 20 | Ian Smith |
| Cooking for Hormone Balance | Magdalena Wszelaki |
| Country Living Mini Makr Overs | Country Living |
| Enlightment Now | Steven Parker |
| Excel 2016 Bible | Hohn Walkenbach |
| Guinness World Records | Guiness World |
| Harry: Love, Life and Loss | Katie Nicholl |
| iPad for Dummies | Bob LeVitus |
| Koren BBQ | Bill Kim |
| Masson Women and Me | Nikki Meredith |
| My American Dream | Lidia Bastianich |
| Navigating Life with Migraine and other Headaches | Willaim Young |
| Nolo's Guide to Social Securty Disability | David Morton |
| Photo Shop Elements for Dummies | Barbara Obermeier |
| Rocket Man | Robert Kurson |
| Sharing the Joy of Cooking | Debbie Macomber |
| Truma Cleaner | Sarah Kranosrien |
| Vegetables Love Flowers | Lisa Ziegler |
| Warman's Antiques & Collectables 2019 | Noah Fleisher |
| Windows 10: The Missing Manual | David Pogue |
Adult Fiction
The Cutting Edge
Kendra Michaels, formerly blind and now a hired gun for law enforcement agencies who relies on her razor-sharp powers of observation, is reluctant to help the FBI with the most recent case they've brought to her. But then she hears the details: the body was found just blocks away from Kendra's condo. The young woman was carrying an envelope with Kendra's name on it, and inside was an SD card with what appears to be an innocuous video of a wedding reception. The woman died trying to get the video to Kendra, but for what purpose? Before Kendra and the FBI can answer that question, the bride is abducted from her suburban home.
And so the hunt is on for a killer whose nightmarish plan is slowly becoming clear. A plan that involves a powerful law firm and a multi-billion dollar corporation. As the body count rises, Kendra joins forces with private investigator Jessie Mercado and agent-for-hire Adam Lynch to stop the plot as it grows ever closer to its terrifying conclusion.
View New Adult Fiction
| | | |
| --- | --- | --- |
| All We Every Wanted | Emily | Griffin |
| Before and Again | Barbara | Delinsky |
| Between You and Me | Susan | Wiggs |
| Bring Ne Back | B.A. | Paris |
| Dreams of Falling | Karen | White |
| Harry's Trees | Jon | Cohen |
| How Hard Can It Be? | Allison | Pearson |
| Island of Mad | Laurie R. | King |
| Jar of Hearts | Jennifer | Hillier |
| Lair, Lair | Lisa | Jackson |
| The Moscow Deception | Karen | Robards |
| The Moscow Offensive | Dale | Brown |
| The Optimistic Decade | Abel | Heather |
| The Patchwork Bride | Sandra | Dallas |
| The Perfect Couple | Elin | Hilderbrand |
| The Pharaoh Key | Douglas | Preston |
| A Place for Us | Fatima | Mirza |
| The President is Missing | Bill | Clinton |
| The Skaar Invasion | Terry | Brooks |
| There There | Tommy | Orange |
| Tom Clancy Line of Sight | Mike | Madden |
| Trubulance | Stuart | Woods |
| Unbridled | Diana | Palmer |
| Us Against You | Fredrik | Backman |
| When Life Gives You lululemons | Lauren | Weisberger |
| The Woman in the Woods | John | Connolly |
| The Word is Murder | Anthony | Horowitz |
 Teens
Mira is not like the other Glittering Court girls. She is a war refugee, cast out of her home country and thrust into another, where she has learned to fight against the many injustices around her. For some, the Glittering Court offers a chance at a life they've only ever dreamed of, one of luxury, glamour, and leisure. But for Mira, it's simply a means to an end. In the new world, she plans to earn off her marriage contract price, and finally be free.
Mira pitches herself as an asset to one of the passengers on board the ship: the sardonic and aloof Grant Elliot, whom she's discovered is a spy for the prestigious McGraw Agency—and her ticket to buying her freedom. His cover blown, Grant has little choice but to take her on. Mira applies herself by day, learning the etiquette and customs that will help to earn her anonymity. By night, she dons a mask and slips into the city, fighting injustice and corruption on her own terms—and impressing Grant with her extraordinary abilities and insights into a brewing rebellion. But the rebellion isn't all they're fighting…
View Teens Books
New Teen Books
| | |
| --- | --- |
| Alex & Eliza | Melisssa De La Cruz |
| All We Can Do Is What | Richard Lawson |
| Be a Changemaker | Laurie Ann Thompson |
| Blod Water Paint | Joy McCullough |
| The Epic Crush of Genie Lo | F.C. Yee |
| The Fates Divide | Veronica Roth |
| The Final Six | Alexandra Monir |
| Leah on the Offbeat | Becky Albertalli |
| Love & War | Melisssa De La Cruz |
| My Hero Academia 1 | Kohei Horikoshi |
| My Hero Academia 2 | Kohei Horikoshi |
| My Hero Academia 3 | Kohei Horikoshi |
| My Hero Academia 4 | Kohei Horikoshi |
| RWBY 1 | Shirow Miwa |
| The Secrets We Bury | Stacie Ramey |
| When My Heart Joins the Thousand | A.J. Steiger |
Children's
In Hello, Door, kids can follow a thieving fox as he greets everything he sees in a home that isn't his.
In this ode to the classic "Goldilocks and the Three Bears" story, kids can follow a thieving fox as he greets everything he sees in a home that isn't his. He collects fine art and jewelry, practices his golf swing, and devours a tasty snack along the way. But just when he thinks he's in the clear to leave with all the goods, the owners of the house-a mama bear, papa bear, and baby bear-come home. They chase him through the house, and when the mama bear catches him she promptly throws him out. But she throws him so far that he ends up in a much nicer neighborhood-in front of a mansion, in fact-where he can begin his mischievous adventure again!
View Children's Books
New Children's Books:
| | |
| --- | --- |
| Atlas of Dinosaur Adventures | Emily Hawkins |
| National Geographic Kids Almanac 2018 | National Geographic |
| The Arts | Dorling Kindersley |
| Accident! | Andrea Tsurumi |
| Dear Girl | Amy Krouse Rosenthal |
| The Very Very Very Long Dog | Julia Patton |
| A Song for Snow | Lita Judge |
| Come Home Already! | Jory John |
| Pillowland | Laurie Berkner |
| Grandma's Purse | Vanessa Brantley-Newton |
| William's Winter Nap | Linda Ashman |
| I Am Loved | Nikki Giovanni |
| 101 Reasons Why I'm Not Taking a Bath | Stacy McAnulty |
| Goodnight Already! | Jory John |
| Ben Franklin's in My Bathroom | Candace Fleming |
| Game of Gnomes | Kristen Mayer |
| Brave | Stacy McAnulty |
| Bear and Chicken | Jannie Ho |
| The Koala Who Could | Racheal Bright |
| The Last Gargolye | Paul Durham |
| Dasiy | Carmen Gil |
| Nothing Can Frighten a Bear | Elizabeth Dale |
| That's My Book! | Salina Yoon |
Movies
Star Wars Rebels - Complete Season 3
Return To Mandalore
Explore where Mandalore fits within the Empire's regime – and whether Sabine can unite her people against the Imperial forces.
Thrawn: A Legend Reborn
Learn Thrawn's significance in Star Wars lore, and what the future may hold for this memorable villain.
View Adult and Children's Movies
Adult DVD's
Acts of Violence
All of My Heart: Inn Love
The Better Half
Flint
Framed for Murder: A Fixer Upper Mystery
Homeland: Complete 6th Season
Lego/Jurassic World The Indominus Escape
Longmire: the complete 5th Season
Mom and Dad
Otlander Season 3
Pitch Perfect 3
Children's DVD's
Aliens Ate My Homework
Happy Birthday!
Hedge Hogs
Legos The DC Super
Lego NEXO Knights Season 3
Liberty's Kids- The complete Series (Educational Edtion)
Lots and Lots of Truck Songs For Kids
Monsters at Large
Octonauts- The Great Swamp Search
Paw Patrol- Sea Patrol
Puppy Dog Pals
Red Dog- True Blue
Sheep and Wolves
Star Wars Rebels Season 3
This is just a small sampling of the new DVD's coming to the library.  Stop in to pick up your next favorite movie!