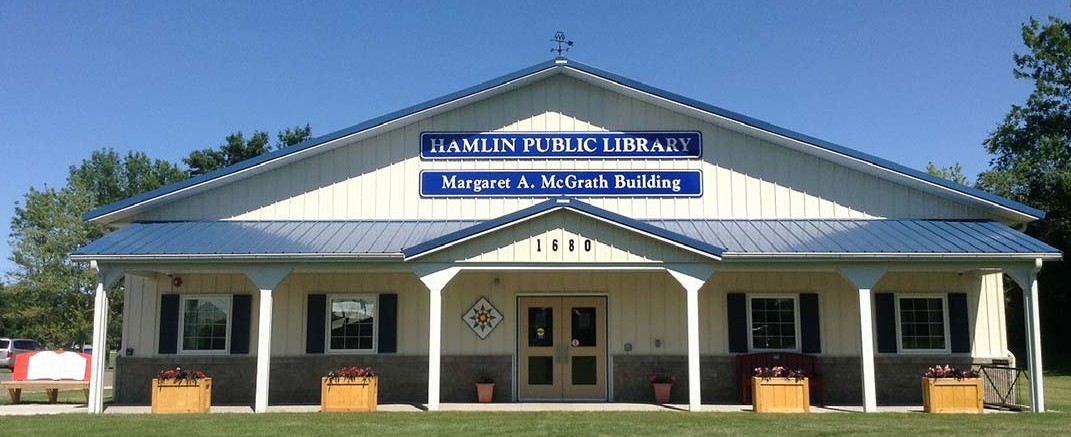 Tweens and Teens Book Discussion 
Last Tuesday of each month
January 31st at 6:45pm
Escape From Mr. Lemoncello's Library
By: Chris Grabenstein
April Showers Cooking Class
Saturday April 8th at 11:00AM

Liz is back with some recipes for showers and parties
Samples will be served.
Space is limited so register early.
Photo gallery installing our new shelving
The project was completed on December 22nd and we are very happy with the how it turned out.  Please stop by to check it out!
Upcoming Events
LIBRARY CLOSED

January 22, 2017

Munchkin Monday Storytime

January 23, 2017 @ 10:30 am - 11:30 am
Hamlin Public Library, 1680 Lake Rd, Hamlin, NY 14464, USA

Stories and themed craft for ages 2-5.
Thursday Night Storytime Adventures

January 26, 2017 @ 6:00 pm - 7:30 pm
Hamlin Public Library, 1680 Lake Rd, Hamlin, NY 14464, USA

A different animal theme each week! We read fiction and non-fiction books and then do a related craft. Ages 5+.
Adult Nonfiction
Sprialize This!
The latest craze in healthy cooking is encouraging home cooks to put a spin on it! With a serving of spiralized zucchini noodles packing less than a quarter of the calories and carbs found in a serving of spaghetti, now pasta-lovers can enjoy their favorite dishes with a smile. And in Spiralize This! Martha Rose Shulman proves just how versatile spiralizers can be: from egg dishes to salads, pickles to gratins, tacos to desserts, this book includes recipes for meat-eaters and vegetarians, with approximately 30 percent vegan recipes. Martha draws on her expertise in vegetable-focused cooking and love of flavors from Mediterranean, Asian, and Latin cuisines to deliver 75 cravable recipes: warming soups and noodle bowls, like Phô with Turnip Noodles and Beets; hearty dishes like Brown Rice Bowls with Miso-Glazed Salmon; seasonal gems like Winter Squash Lasagna. The book features a beautiful full-color photo with every recipe and includes tips on how to use various spiralizers and how to store leftover vegetable noodles, ribbons, and rice. With the basics of spiralizing covered and the array of fresh, enticing dishes to try, this is the book that spiralizer fanatics have been waiting for.
View new Adult Nonfiction
| | |
| --- | --- |
| Katie Sullivan Morford | Rise and Shine: Better Breakfast for a Busy Morning |
| Jo Cismaru | 30-Minute One-Pot Meals |
| Diana Falk | The Hungry Fan's Game Day Cookbook |
| Dorie Greenspan and Davide Lucicano | Dorie's Cookies |
| Sis Sister's Stuff | Dinner Made Easy with Six Sisters' Stuff: |
| Mary Jo Saavedra and Susan Cain McCarty | Eldercare 101: A Guide to Later Life Planning, Care and Wellbeing |
| Penn Jillette | Presto!: How I Made Over 100 Pounds Disappear and Other Magical Tales |
| Dylan Chalk | The Confident House Hunter: A Home Inspector's Tips for Finding Your Perfect House |
| Lysa TerKeurst | Uninvited: Living Loved When You Feel Less Than, Left Out, and Lonely |
| Wendy Vincent | The Complete Guide to Working with Worms |
| Brenda Flynn, Mike Flynn | The Complete Guside to Building with Rocks and Stones: Stoneworkers Projects and Techiques |
| Matthijs Ilsink and Jos Koldeweij | Heirouymus Bosch: Visions of Genius |
| Nicholas Dodman DVM | Pets on the Couch:Neurotic Dogs, Complusive Cats, Anxious Birds and the New Science of Animal Psychiatry |
| Amber Smith | Danger Close: My Epic Journey as a Combat Helicopter Pilot in Iraq and Afghanistan |
| Jeff Pearlman | Gunslinger: The Remarkable, Improbable, Iconic Life of Brett Favre |
| JoAnn Moser | Mason Jar Nation: The Jars that Changed America and 50 Clever Ways to Use Them Today |
| Tanis Gray | 3 Skeins or Less – Modern Baby Knits: |
| Lousia L. Smith | Double Vision Quilts: Simply Layer Shapes & Color for Richly Complex Curved Designs |
Adult Fiction
Turbo Twenty-Three
As fate would have it, Stephanie's mentor and occasional employer, Ranger, needs her to go undercover at the Bogart factory to find out who's putting their employees on ice and sabotaging the business. It's going to be hard for Stephanie to keep her hands off all that ice cream, and even harder for her to keep her hands off Ranger. It's also going to be hard to explain to Trenton's hottest cop, Joe Morelli, why she is spending late nights with Ranger, late nights with Lula and Randy Briggs—who are naked and afraid—and late nights keeping tabs on Grandma Mazur and her new fella. Stephanie Plum has a lot on her plate, but for a girl who claims to have "virtually no marketable skills," these are the kinds of sweet assignments she does best.
View new Adult Fiction
September Releases….
| | |
| --- | --- |
| Pushing Up Daisies by M.C. Beaton | Emeral Lie by Ken Bruen |
| Razor Girl by Carl Hiaasen | Gentleman in Moscow by Amor Towles |
| Home by Harlen Coben | Here I Am by Joathan Saran Foer |
| Fates and Traitors by Jennifer Chiaverini | Infamy No. 28 by Rober Tanenbaum |
| Downfall: A Brady Novel of Suspense by J.A. Jance | Kept Woman by Karin Slaughter |
| Commonwealth by Ann Patchett | Leave Me by Gayle Forman |
| Apprentice in Death by J.D. Robb | Nutshell by Jan McEwan |
| Because I'm Watching by Christina Dodd | Perfect Girl by Gilly Macmillan |
| Closed Casket by Sophie Hannah | Perfume River by Robert Olen Butler |
| Daisy in Chains by Sharon Bolton | Pirate by Clive Clusser |
| Darktown by Thomas Mullen | Reckless Creed by Alex Kava |
Children and Teens
Fantastic Beasts and Where to Find Them marks the screenwriting debut of J.K. Rowling, author of the beloved and internationally bestselling Harry Potter books. Featuring a cast of remarkable characters, this is epic, adventure-packed storytelling at its very best.
Whether an existing fan or new to the wizarding world, this is a perfect addition to any reader's bookshelf.
When Magizoologist Newt Scamander arrives in New York, he intends his stay to be just a brief stopover. However, when his magical case is misplaced and some of Newt's fantastic beasts escape, it spells trouble for everyone…
View Children and Teens Books and DVD's
| | |
| --- | --- |
| New Teen Books | |
| The Beauty of Darkness | Pearson, Mary |
| Blood, Bullets, and Bones | Heos, Bridget |
| Fantastic Beasts and Where to Find Them | Rowling, J.K. |
| Girls in the Moon | McNally, Janet |
| The Unbeatable Squirrel Girl 4 | North, Ryan |
| | |
| New Children's Chapter Books | |
| The Charming Life of Izzy Malone | Lindquist, Jenny |
| Fishbone's Song | Paulsen, Gary |
| Into the Lion's Den, a Devlin Quick Mystery | Fairstein, Linda |
| Houston, We Have a Klutz! | Time, Nicholas O. |
| | |
| New Picture Books | |
| Click, Clack, Surprise! | Cronin, Doreen |
| Dinosaur's Don't Have Bedtimes! | Knapman, Timothy |
| Gorilla Loves Vanilla | Strathie, Chae |
| The Most Perfect Snowman | Britt, Chris |
| Pete the Cat and the Missing Cupcakes | Dean, Kimberly |
| | |
| New Non-Fiction Books | |
| The Lego Christmas Ornaments Book | McVeigh, Chris |
| The Science Behind Batman's Uniform | Biskup, Agnieszka |
| The Science of Superheroes | Hutchison, Patricia |
| The Science of Warriors | McCarthy, Cecilia |
Movies
The BFG (Big Friendly Gaint)
Rated PG
The Big Friendly Giant (BFG, for short) is the tall guy who grabs Sophie from her bed in an orphanage and runs her off to Giant Country. He's her protector from the other, people-eating giants, and he's also a catcher of good dreams for human children. He's bumbling, funny, smart, kind, and as loveable as he is tall.
View New Movies
New Adult DVD's
The Conjuring 2
The Shallows
Now You See Me 2
Money Monster
Love and Friendship
Genius
Mike and Dave Need Wedding Dates
The Meddler
The Hologram for a King
Central Intelligence
Children's DVD's
Wild Krats Wild Reptiles
The Wiggles Wiggletown
Ratchet and Clank
Monkey King, Hero is Back
Gibby
The Advantures of Panda Warrior
ABC Monsters Starring MNOP
ABC Monsters Starring IJKL
ABC Monsters Starring EFGH
Meet the ABC Monsters
Teenage Muntant Ninja Turtles: Out of the Shadows
This is just a small sampling of the new DVD's coming to the library.  Stop in to pick up your next favorite movie!