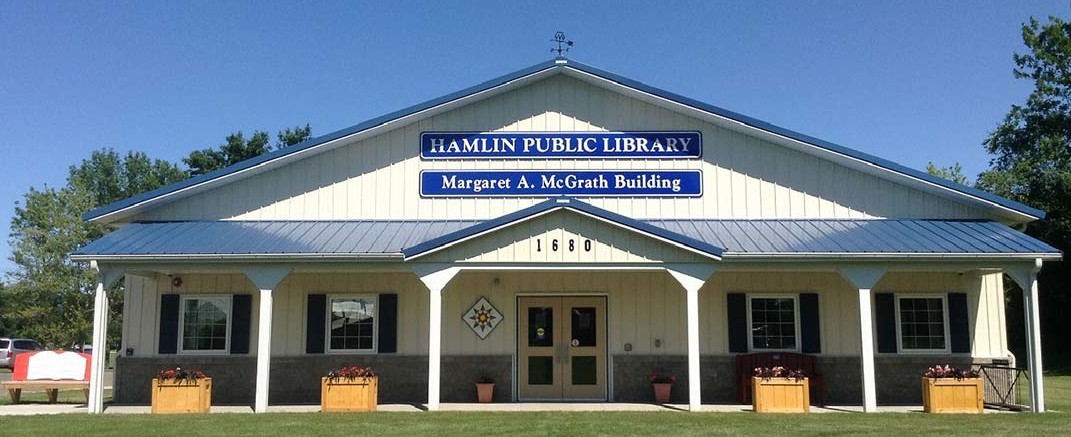 The Friends of the Hamlin Public Library are a non-profit, tax deductible volunteer organization that provides financial support for the Hamlin Public Library.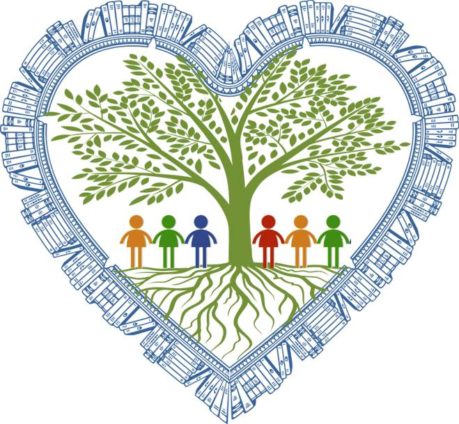 The Friends of the Hamlin Public Library provides support to the Library in a variety of forms:
Book Sales
Fund Raising Events
Advocates for the Library to elected officials
Financial support for the Summer reading Program
Financial support including items such as the purchase of our circulation counter, the teen and adult area seating, multiple programs, and the meeting room renovation
What are different ways someone can support the Friends of the Library?
Become a member to assist the Hamlin Public Library with it's continued goal to support the Hamlin community.
Volunteer to participate in our fundraisers.
Join in Friends of the Library meetings on the 4th Wednesday of the month at 4:00pm at the library. It's a great time to offer your support and ideas. There are no meetings held in May, July and December.
Please contact Wilma Matsko at matskofam@frontiernet.net for more information about volunteer opportunities supporting the Library.
Businesses that support The Friends of the Library

Both of these businesses are Lifetime Supporters!

Would your business or organization like to help support The Friend of the Library?  If so please contact Wilma Matsko at matskofam@frontiernet.net.  it would be greatly appreciated. 
For more than 5,000 years, "old" has been defined as beginning between the ages of 60 and 70. That means most people alive today will spend more years in elderhood than in childhood, and many will be elders for 40 years or more. Yet at the very moment that humans are living longer than ever before, we've made old age into a disease, a condition to be dreaded, denigrated, neglected, and denied.
Reminiscent of Oliver Sacks, noted Harvard-trained geriatrician Louise Aronson uses stories from her quarter century of caring for patients, and draws from history, science, literature, popular culture, and her own life to weave a vision of old age that's neither nightmare nor utopian fantasy–a vision full of joy, wonder, frustration, outrage, and hope about aging, medicine, and humanity itself.
Elderhood is for anyone who is, in the author's own words, "an aging, i.e., still-breathing human being."
View new Adult Nonfiction
| | |
| --- | --- |
| Camp Grandma | Marianne Wangner-Day |
| Candle Making Basics | Eric Ebeling |
| Complete Crochet Course | Shannon Mullett-Bowlsby |
| Crafting Meaningful Wedding Rituals | Jeltje Gordon-Lennox and Tiu de Haan |
| Crochet for Play | Sarah Pawlowski |
| Crochet in a Day | Selena Baca |
| Discovery the Joy of Everyday | Rob Walker |
| Elderhood | Lousie Aronson |
| Family Tree Toolkit | Kenyatta Berry |
| Happiness is Baking | Maida Heatter |
| History of the Bible | John Barton |
| How to Raise Sucessful People | Esther Wojocicki |
| Knitted Tanks and Tunics | Anglea Hahn |
| Make in a weekend Afghans to Crocheting | Mary Ann Frits |
| No Plot? No Problem | Chris Baty |
| Oh! Crap! I Have a Toddler | Jamie Glowacki |
| Raising an Orhanized Chil | Damon Korb |
| Stained Glass making Basics | Lynn Haustein |
| Top-Down Knit Sweaters | Corrina Ferguson |
| Where Monsters Hide | William M. Phelps |
| X-Plan Parenting | Bert Fulks |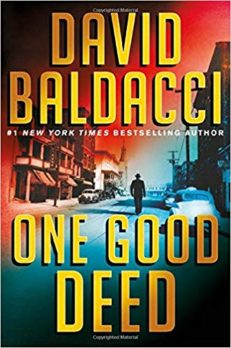 One Good Deed
It's 1949. When war veteran Aloysius Archer is released from Carderock Prison, he is sent to Poca City on parole with a short list of do's and a much longer list of don'ts: do report regularly to his parole officer, don't go to bars, certainly don't drink alcohol, do get a job–and don't ever associate with loose women.
The small town quickly proves more complicated and dangerous than Archer's years serving in the war or his time in jail. Within a single night, his search for gainful employment–and a stiff drink–leads him to a local bar, where he is hired for what seems like a simple job: to collect a debt owed to a powerful local businessman, Hank Pittleman.
Soon Archer discovers that recovering the debt won't be so easy. The indebted man has a furious grudge against Hank and refuses to pay; Hank's clever mistress has her own designs on Archer; and both Hank and Archer's stern parole officer, Miss Crabtree, are keeping a sharp eye on him.
When a murder takes place right under Archer's nose, police suspicions rise against the ex-convict, and Archer realizes that the crime could send him right back to prison . . . if he doesn't use every skill in his arsenal to track down the real killer.
View New Adult Fiction
| | | |
| --- | --- | --- |
| The Chain | Adrian  | McKinty |
| Chances Are | Richard  | Russo |
| The Chelsea Girls | Fiona | Davis |
| The Escape Room | Megan | Goldin |
| The Gifted School | Bruce | Holsinger |
| The Golden Hour | Beatriz | Williams |
| Good Girl, Bad Girl | Michael | Robotham |
| Knife | Jo | Nesbo |
| Labyrinth | Catherine | Coulter |
| Lady in the Lake | Laura | Lippman |
| The lager Queen of Minesota | Ryan J. | Stradal |
| The Last Book Party | Karen | Dukess |
| The New Girl | Daniel | Silva |
| The NIckel Boys | Colson | Whitehead |
| One Good Deed | David | Baldacci |
| The Other Mrs Miller | Allison | Dickerson |
| Someon to Honor | Mary | Balough |
| Someone We Know | Shari | Lapena |
| Supper Club | Lara | Williams |
| Surfside Sisters | Nancy  | Thayer |
| Temptation Darling | Johanna | Lindsey |
| Under Currents | Nora  | Roberts |
| Wanderers | Chuck | Wendig |
| Window on The Bay | Debbie | Macomber |
Survivors of a deadly planetary outbreak take on a new, sinister adversary in the white-knuckle sequel to Contagion, which New York Times bestselling author Amie Kaufman called "gripping, thrilling, and terrifying in equal measures."
Thea, Coen, and Nova have escaped from Achlys, only to find themselves imprisoned on a ship they thought was their ticket to safety. Now the nightmare they thought they'd left behind is about to be unleashed as an act of political warfare, putting the entire galaxy at risk.  
To prevent an interstellar catastrophe, they'll have to harness the evil of the deadly Achlys contagion and deploy the only weapons they have left: themselves.
View Teens Books
Teen and Tweens
| | |
| --- | --- |
| Non-Fiction |   |
| Claude Monet | Danielle Hayes |
| Leonardo DaVinci | Tarma B Orr |
| They Called Us Enemy | George Takei |
| Depression | Jacqueline B Toner |
| Dissenter on the Beach | Victoria Ortiz |
| Freeing Yur Child from Anxiety | PhD Tamar Chansky |
| The Mindful Teen | Dzung MD |
| My Hero Axademia 19 | Kohei Horikoshi |
| Technically You Started It | Lana Wood Johnson |
| | |
| --- | --- |
| Fiction |   |
| The Beckoning Shadow | Kathayn Blair |
| How We Became Wicked | Alexander Yates |
| Immunity | Erin Bowman |
| The Merciful Crow | Margaret Owen |
| Spin The Dawn | Elizabeth Lim |
| The Storm Crow | Kalyn Josephson |
| Wilder Girls | Rory Power |
| Ghosts of the Shadow Market | Cassandra Clare |
| Like a Love Story | Abdi Nazemian |
| Ordinary | Blair Thornburgh |
| The Rest of the Story | Sarah Dessen |
| Sorcery of Thorn | Margaret Rodgerson |
| Teeth in the Mist | Dawn Kurtagich |
| Where I End and You Begin | Preston Norton |
https://www.youtube.com/watch?v=gbsZohEMn38
Click the link above to watch the hilariously fun video of a grandma reading the "Wonky Donkey" book to her grandchild
Kids will love this cumulative and hysterical read-aloud!"I was walking down the road and I saw . . .
A donkey,
Hee Haw!
And he only had three legs!
He was a wonky donkey."
Children will be in fits of laughter with this perfect read-aloud tale of an endearing donkey. By the book's final page, readers end up with a spunky, hanky-panky, cranky, stinky, dinky, lanky, honky-tonky, winky wonky donkey!
View Children's Books
| | |
| --- | --- |
| Picture Books |   |
| Chicken talk | Patricia MacLachlan |
| From Tree to Sea | Shelley Moore Thomas |
| Good Boy | Sergio Ruzzier |
| How to give your Cat a Bath | Nicola Winstanley |
| In the Quiet Noisy Woods | Michael Rosen |
| Say Something! | Peter Hamilton Reynolds |
| Sheep Dog | Eric Barclay |
| What a Cold Needs | Barbara Botner |
| What If…? Then We… | Rebecca Kai Dotlich |
|   |   |
| Board Books |   |
| Spring Babies | Kathryn Galbraith |
| Summer Babies | Kathryn Galbraith |
| Super Pooper and whiz Kid Potty Power | Eunice Moyle |
| Winter babies | Kathryn Galbraith |
The Mule
Gritty. Real. Real gritty.
Once again, Eastwood stars and directs a film about an aging Korean War veteran, Earl Stone, who continues to take pleasure in his lifetime past times, beautiful women, alcohol, and…….flowers (?).
Now in his nineties, with lingering guilt about neglect and abuse placed on certain family members, he tries to cling to the things he knows & loves: flowers. Offered a "driving" job, Earl finds himself in the modern age of cell phones, texting, & GPS.
Earl is now a drug runner, he knows what he is into, and uses his "gobs 'o money" to get his house out of foreclosure, finance improvments to his VFW, and pay for other, a-hem, pleasures.
 Very little. The film is really about family, personal honor, integrity, and doing the right thing, even after doing wrong.
View Adult and Children's Movies
Adult DVD's
All of My Heart – The Wedding
Becoming Astrid
Being Rose
Ben is Back
Christmas with Tucker
Death Kiss
The Favorite
Frenzy
Grand-daddy Day Care
Last of the Mohicans
Love on Safari
My Dinner With Herve
Once Upon a Prince
Second Act
Signed Sealed Delivered-Home Again
Speed kills
Tea With The Dames
What They Had
Winter's Dream
Children's DVD's
Bubble Gum Fairies-Valentines Day Party
Capt Maya and The Space Explores
Easterland
Groundhog Dave
Leprechaun tales
My Hero Academia Two
Paw Patrol-Mighty Pups
Pawparazzi
PBS Kids-20 Incredible Tales
Spiderman: Into the Spider Verse
Stan and Ollie
This is just a small sampling of the new DVD's coming to the library.  Stop in to pick up your next favorite movie!